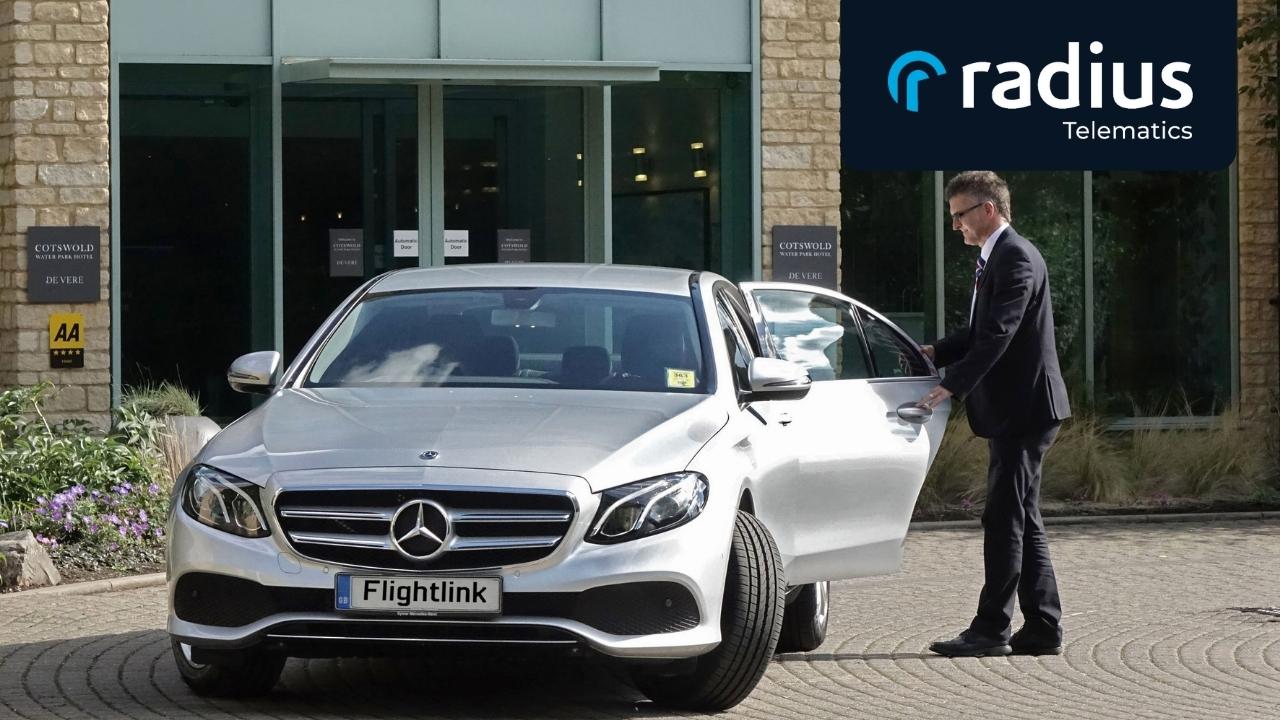 Flightlink Chauffeurs Drive Top Class Service with Radius Telematics
Flightlink Chauffeurs has equipped its fleet with Radius telematics to live monitor the movements and performance of its fleet of luxury vehicles and chauffeurs. The latest vehicle tracking technology also integrates with fuel and credit card payments from UK Fuels as part of a one-stop system allowing the company to maintain top levels of service to its clients.
Flightlink Chauffeurs are based in Swindon and provide executive travel services along the M4 corridor. Thought to be the only ISO 9001 quality accredited executive hire company in the UK, the company employs 50 chauffeurs with a fleet of luxury Mercedes transporting Blue Chip company executives and discerning individuals anywhere in the UK.
"Unlike most operators in our sector we fully own our fleet and employ our drivers. That's because we can manage service levels and attain the high standards required for quality accreditation," says Cecilia van Zyl, Managing Director, Flightlink Chauffuers. "Kinesis is important as it allows us to closely monitor everything, whether it be precise arrival and departure times, auditing chauffeur hours and driving performance, or analysing mile by mile fuel consumption."
Flightlink's chauffeurs are equipped with ID key fobs which match the driver to the vehicle, so any vehicle can be driven by any driver, with tracking data provided by vehicle and by driver. With Kinesis providing advanced driving performance data, good and safe driving is encouraged; a key requirement for maintaining the company's reputation and quality of service credentials.
"Kinesis has been a revelation as it just seems to work better than other systems, giving us accurate location data when others fail. With the driver performance feature, we have already seen an improvement in driving scores, up from 70 to 80 per cent. The improvement in these scores would be presented to the insurance company and could result in a reduction in rates," comments van Zyl. "And being Google Maps based is a big benefit as we not only get a familiar and easy web mapping interface showing vehicle movements, but we also get live traffic data so we can alert the chauffeur."
Kinesis tracking data is fully integrated with card payment services provided by UK Fuels. As well as fuel cards payments, Flightlink use a service which allows the firm's chauffeurs to purchase goods for their passengers on a credit card for automatic charging onto the client's account. With Kinesis integration, added data on the specific vehicle and driver can be viewed and reported from within a single web-based system.
"Kinesis and the card integration has certainly helped boost our productivity and we reckon it has already reduced the administrative work by 30 per cent. From a business perspective, Kinesis is proving a big asset in allowing us to optimise and enhance our services by providing both excellent live data and management information," adds van Zyl.