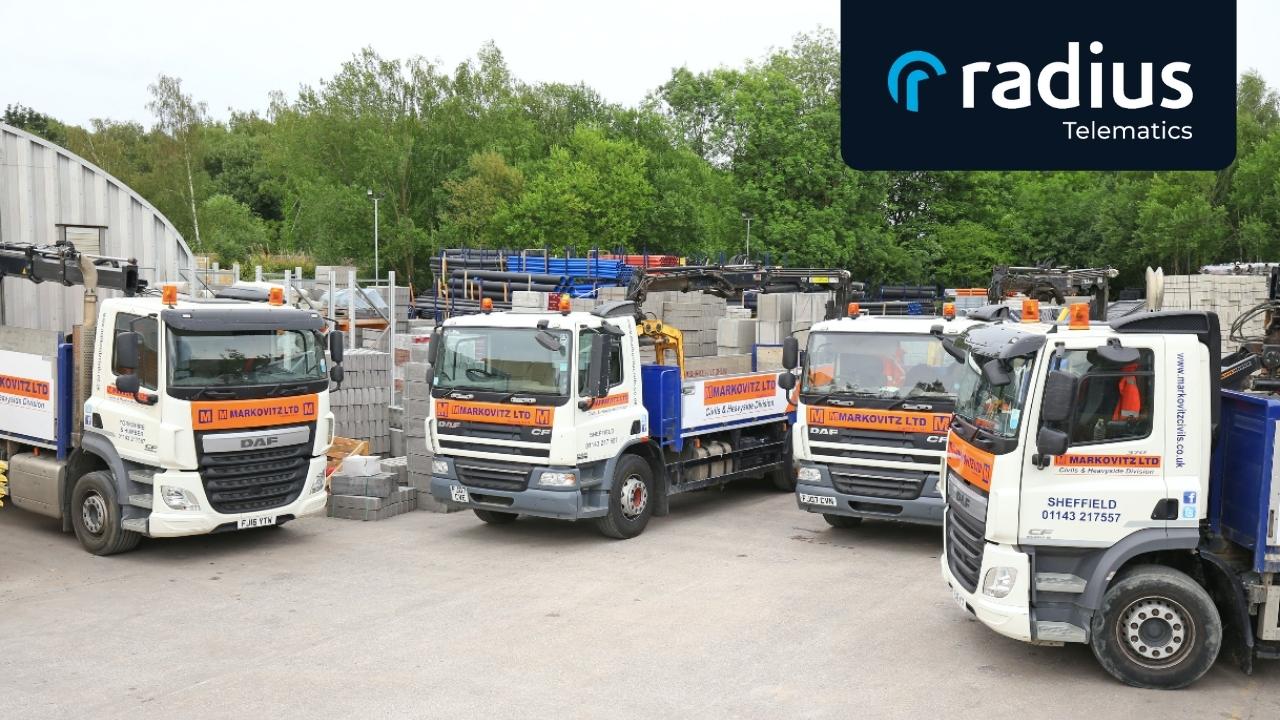 Radius Telematics Keeps M Markovitz Builders' Merchants Fleet on Track with Integrated Telematics
M Markovitz Ltd, a Derbyshire based building supply company, is using Radius telematics to track and manage its fleet of delivery trucks and staff cars. Integrated with fuel cards from UK Fuels, Kinesis delivers real time monitoring of a vehicle's exact location improving customer service with more accurate ETA notifications. Markovitz also uses Kinesis driver performance data, fuel analysis, geofencing and is trialling the use of the Kinesis Maintenance App.
Established in 1935 by Maurice Markovitz, the company was originally a coal and general merchants company before branching out into building materials. The Markovitz family of companies now encompasses eight builders' and plumbers' branches, three dedicated civils depots, two luxury kitchen and bathroom showrooms, a specialist Stove and Cooker centre and even an AA-Rosette awarded restaurant, employing around 250 people.
"Following an extensive review of potential solutions, including demonstrations, we selected Kinesis as it was a solution that offered the functionality we required at the right price," commented Mike Davies-Key, Commercial Manager at M Markovitz Ltd. "We also felt the team behind Kinesis were happy to work with us to tailor the solution to meet our specific needs both now and as we grow in fleet size and expectations."
Headquartered in Tideswell, in the Peak District area of Derbyshire, Markovitz currently operates a fleet of 45 HGVs, offering free local delivery across Derbyshire to Nottingham, Greater Manchester and beyond. Markovitz representatives, 15 in total, are also on the road each day visiting customers, suppliers and partner organisations.
Using Kinesis Markovitz has real time visibility of its mobile operation. The location of delivery trucks, updated every 30 seconds and displayed using an easy to interpret map screen, is boosting customer service with more accurate and timely communications. Delivery ETAs can be calculated and shared at the start of day, updated, and resent, if required, as drivers complete their schedules. Integrated fuel cards reduce paperwork associated with credit card or expenses claims and improve the management of fuel consumption, with accurate MPG calculations, and therefore can reduce costs and potential environmental emissions.
Kinesis helps Markovitz allocate deliveries to the most appropriate depot further boosting customer service and maximising operational efficiency. Virtual zones and boundaries can be defined, known as geofencing, and using the vehicle-mounted GPS devices, alerts triggered if these are breached. Markovitz also uses driver performance data, including speeding, harsh braking and accelerating and idling to monitor and improve driver behaviour for health and safety and cost control.