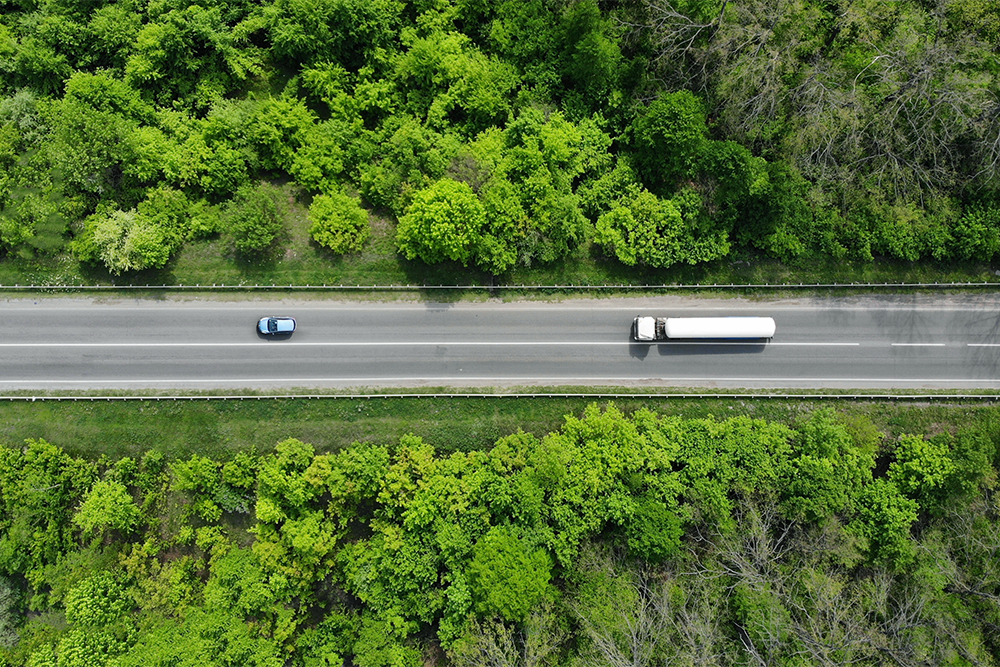 Commercial Vehicle Tracking to Support Businesses
GPS tracking solutions have grown in popularity lately as more businesses started to recognise the added value of commercial vehicle tracking and telematics.
The benefits are huge as a good vehicle tracking system puts you in control of your fleet. Save time and money and manage your fleet without trouble with commercial vehicle tracking systems.
If you're ready to take the next step to boost your business operations and manage your fleet more efficiently, contact us and we'll get you sorted with a complete, top-grade vehicle tracking system.
If you're still unsure how vehicle tracking and telematics can support your business development, continue reading to find out.
Top benefits of commercial vehicle tracking
Vehicle tracking means real-time monitoring of your commercial vehicles on a live map. But it does much more than pinpoint the location on a map. It provides comprehensive reports with extensive data based on which you can greatly improve your fleet operations. It give you all the tools you need to easily control every aspect of your fleet and have a complete view into your vehicles and drivers.
Commercial vehicle tracking systems show you a full status of your vehicles; they allow you to make faster decisions, increase productivity and reduce expenses.
These are the top benefits of vehicle tracking and telematics.
Better security for both your vehicles and drivers
Vehicle theft is an issue many companies are struggling with. Even with great insurance, businesses still incur a great deal of loss in case their vehicles stolen. The most wished for outcome is still the recovery of the vehicle.
Commercial vehicle tracking makes it possible to recover your vehicles as soon as possible. Besides, thieves are often discouraged to steal tracked vehicles. We have had many happy customers and successful recoveries. For example, this stolen Jaguar F-type was recovered in 20 minutes of our asset tracking device reporting in. Check out our news section for more success stories.
In addition, you can set up geofences and be alerted every time a vehicle enters or exits a specified area. You can also get notified every time your commercial vehicles stray from a route or operate outside of business hours.
Use commercial vehicle tracking systems to protect your most important assets – your drivers. Our vehicle tracking systems include a panic button for your drivers. You'll be immediately notified if this button is pressed and you'll be able to respond quickly to any kind of emergency with your driver or your vehicle.
Boost fleet productivity and efficiency
Here are two well-known words for any business – productivity and efficiency. Two areas every business seeks to maximise.
A good commercial vehicle tracking system makes it possible to increase fleet productivity and efficiency by working smarter and easier.
It gives fleet managers visibility into their entire fleet helping them monitor and deploy their vehicles easier and more efficiently. It'll help them reduce unnecessary miles and improve vehicle utilisation.
Reviewing journey history is also a great advantage. By analysing trip history data, you can identify patterns and improve performance. See how many miles your drivers have travelled, how long they've been on site for, how long their journeys took, and a lot of other things about their performance.
All this data gives you all the information you need to increase efficiency. Also, you get access to all this data quickly and easily in one place. There's no wasting time to dig for information and put it all together.
Monitor driver behaviour with commercial vehicle tracking
Your drivers and their driving styles represent your company's image on the roads. Monitor your drivers' behaviour and take a proactive approach setting up targeted trainings to correct aggressive driving.
With both Kinesis and Kinesis Pro from Radius Telematics, you get driver scores for each of your drivers. You get an overview of harsh acceleration, braking, speeding, cornering and idling activities and you can encourage safe changes in performance.
Coaching your drivers for a safe driving style brings many benefits. You'll save fuel, you'll reduce vehicle wear and tear and decrease changes of accidents.
Get a commercial vehicle tracking system to save time and money
The best vehicle tracking systems monitor everything that's happening with your vehicles. You get access to insightful data that will help to save money. It'll also save you a lot of time on fleet management as you'll get all the relevant information at the tip of your fingers.
Manage and reduce your fleet's fuel consumption by tracking your vehicles. With fuel card integration into our Kinesis products, you get detailed reports to identify the best and worst performing vehicles and drivers. Tackle issues proactively and start saving fuel. Get in touch and our experts will set you up with the best solution for your fleet. Get your fuel cards with Radius, too.
Safe driving reduces vehicles' wear and tear, which will also save you maintenance costs. Your vehicles will run smoothly for longer and need less repairs.
Some insurance providers may also offer better insurance premiums for tracked vehicles. If you manage a large fleet, these discounts will only add up. If your insurance provider doesn't provide this, check other insurance offers with Radius.
Happy customers and better customer service
ETA (estimated time of arrival) is an important factor for customers. Using a commercial vehicle tracking system, you can give precise ETAs to your customers and inform them in real time of any issues or delays. You can answer all customer questions quickly and reassure them that you're on top of whatever may happen.
You can also dispatch vehicles to jobs faster, as you'll know exactly which vehicle is closer or which vehicle is the right one for the job. You can also give the customer an accurate time of arrival.
Live updates are highly appreciated by customers nowadays. Using a commercial vehicle tracking system you can give your customers reliable updates so they can plan their operations better as well.
Who is commercial vehicle tracking suited for?
Businesses of all types and sizes should seriously consider commercial vehicle tracking systems for their added benefits.
At Radius Telematics, we offer solutions tailored for all kind of businesses from sole traders and SMEs to large fleets. Whatever your business needs are, we have a solution for you. Check now with our team of experts to find it.
Contact us at your convenience by filling in our online form, send us an email at info@radiustelematics.com or call us at 0800 056 4432. Our expert team of advisers will be happy to help.